Self-transfer (or Virtual Interlining) is a flight itinerary that has combined two or more airline segments despite these airlines not having a formal agreement between them. We show these itineraries because they can result in significant savings to the user.
The prices for Self-transfer itineraries are often cheaper, but there are a few things to know:
If you are going to check a bag on your flight, you will need to claim and recheck any checked luggage with each airline as you move from one airport to another on your trip. This may also involve going through security or customs at each stop.
If you are not able to check-in on a mobile app and/or it's an international flight you might need to leave the visa-free zone and check in and go through security for the next leg of your itinerary. At some large airports, you may need to transfer between terminals. Given this, it is important that you give yourself some extra time in between self-transfer segments.
If there are delays or disruptions on a segment of your self-transfer itinerary, the airline that you are flying with will not be responsible for future segments where you are not flying with them. That means they won't help you find a replacement flight or reimburse you.
On Skiplagged, a self-transfer flight will be labeled in the search results so you can distinguish this type of flight from other types.

Let's say you want to book a one-way flight traveling from Atlanta, GA (ATL) to Arauca, Colombia, South America (AUC) on November 9. You found a flight itinerary that has multiple airlines for your one-way trip.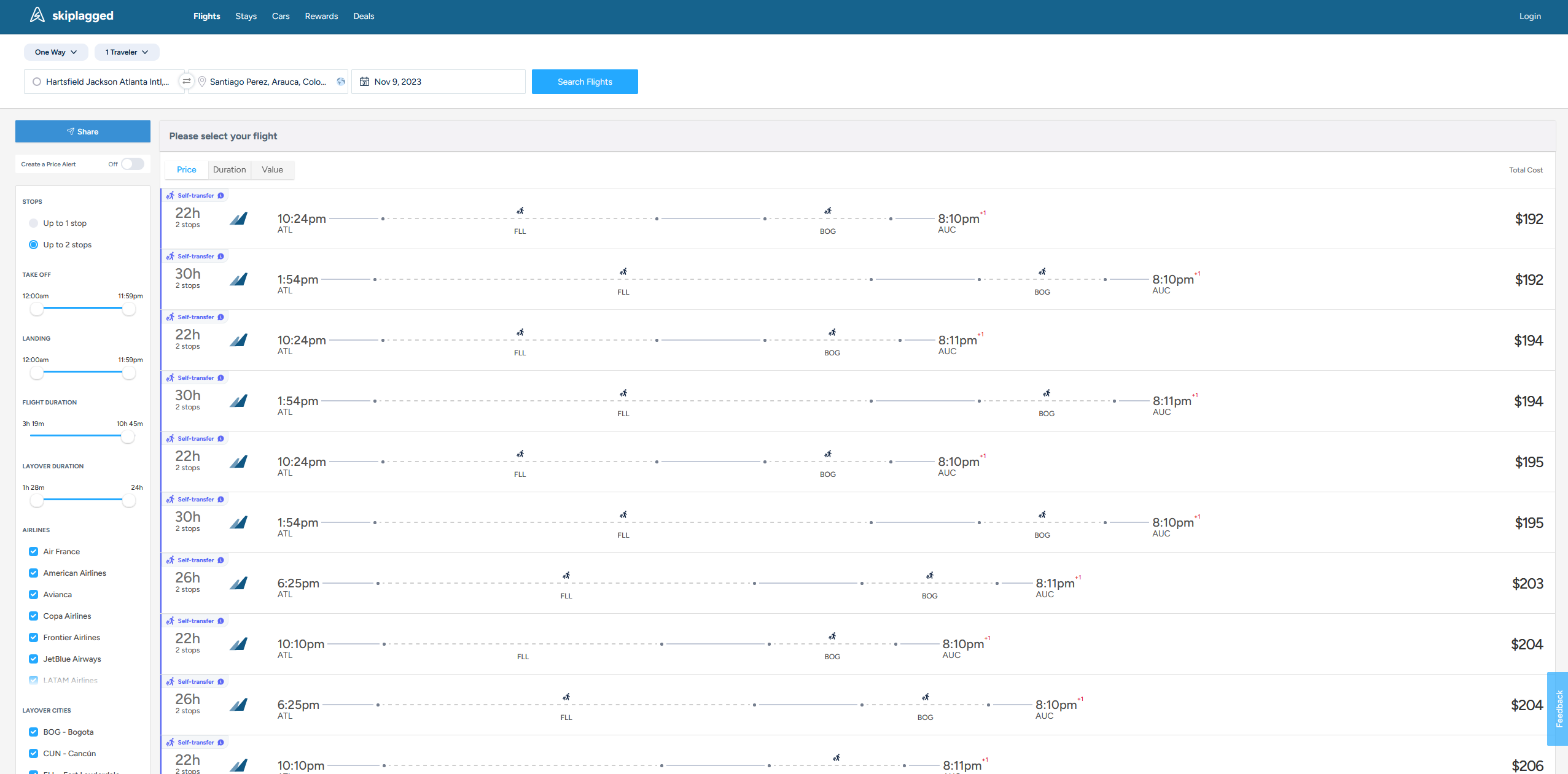 In this example, you would travel from ATL to AUC on three airlines.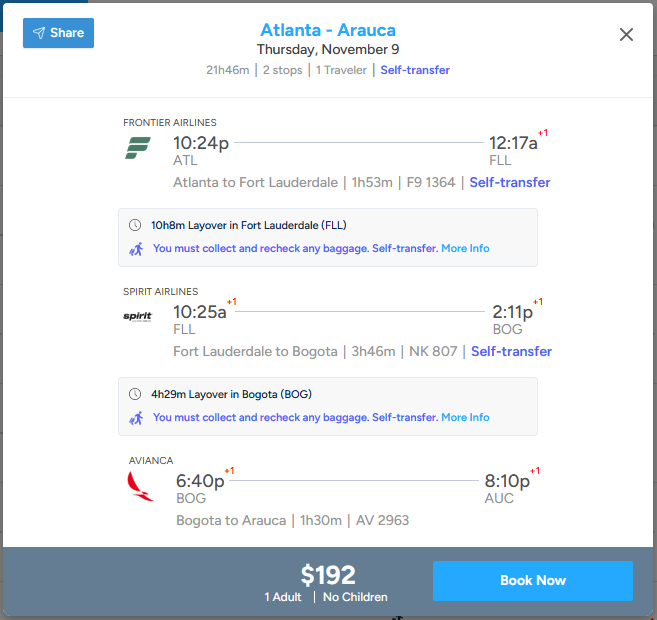 First, you would depart from Atlanta, Georgia (ATL) airport on Frontier Airlines and land in the Fort Lauderdale, Florida (FLL) airport. You will need to collect any luggage that you've checked for your Frontier flight and transfer it yourself to the next airline. You would need to go through Spirit ticketing and security to get on your next flight.
Upon going through ticketing and security, you will depart on Spirit Airlines from Fort Lauderdale (FLL) to Bogota, Colombia (BOG).
Finally, once you arrive at the BOG airport, you will self-transfer one more time, including getting any checked luggage from your Spirit Airlines flight and checking it back in. Since you've gone outside security to get your luggage, you will need to go through security again. Upon doing that you will depart from Bogota Airport (BOG) airport on Avianca Airlines to your final destination in Arauca, Colombia (AUC).
Once you have reviewed the itinerary, you can click on the blue "Book Button" and you will be taken to the next page to book your self-transfer itinerary directly from one of our OTA partners.