Hidden-city flights are only available on certain routes. Some cities are major transit hubs, so flights frequently have layovers in those cities. If you are flying through such a city, you may see flight options on our site that allow you to disembark at the layover city. If these options are available, they will appear in your search results (you don't have to do anything special to get these results to appear). You'll know they're hidden-city flights because the final legs of the journey will be crossed off, and the layover location will appear as your destination. These flights will also be denoted as "Skiplagged rate":

If hidden-city flights are options in your search results, you will have the ability to filter the results to view only hidden-city flights. Simply select the filter option to view Hidden-City only flights: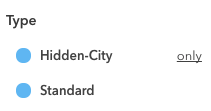 Remember: If you choose a hidden-city itinerary, consult our page about tips for hidden-city travel: What is a "hidden-city" flight?